Deborah offers accommodation for six people – four in the main body of the house and two in the attached, renovated studio. The house is conveniently placed for the shops and tavernas in the Old Village but is far enough off the beaten track to be unaffected by the visitors who come up to experience the wonderful views and ambience of this delightful area of the island.
Just a few minutes walk from the nearest parking spot, Deborah is approached by short, uphill path through the Old Village. It's a two storey house, full of character and many traditional features.
Entering through the front door you will find a spacious dining room – with seating for six people – and a kitchen equipped with a gas cooker, microwave, fridge/freezer and plenty of cupboards and shelving. The window looks out over a shaded courtyard.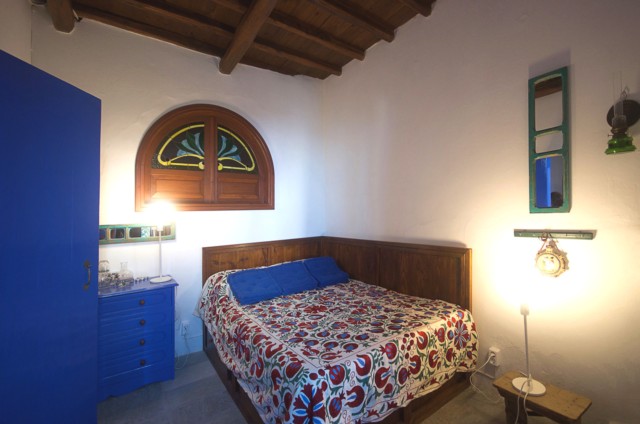 Also downstairs there is a double bedroom (bed sized 140 cm x 190 cm); and a small sitting room with a corner fireplace – and a supply of board gamesto play if you are wanting some mental stimulation!
A staircase from the entrance hall leads up to a large, airy bedroom/sitting room, furnished with twin beds (currently placed together to form a large double), sofa, armchairs and cupboards. From this beautiful room, doors open onto a large, shaded balcony with wonderful panoramic views up the island to one side and over the sea to the Two Brothers and Evvia.
Back inside the bedroom, an en-suite bathroom contains a bath (with shower over), basin and toilet.
Going back downstairs there is a door at the rear of the house leading into a quaint and picturesque walled courtyard. Protected by a vine-covered pergola, this is the perfect spot to sit in the shade, out of the heat of the day.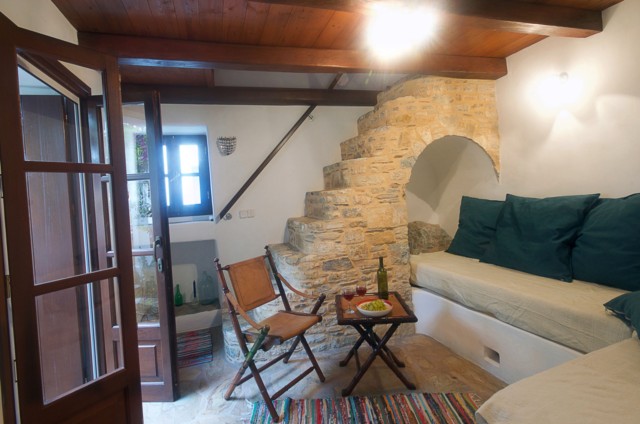 The additional accommodation in the 'ruin' is entered from the courtyard. This beautifully renovated studio offers, on the ground floor, a small kitchen area, a shower room (which is shared by the occupants of the downstairs bedroom in the main house) and a small lounge area with built-in sofas; and upstairs the spacious bedroom has two single beds.
House Deborah – Graduation of prices per day due to season


May
June
July
August
September
October
Number of beds

100 Euro
115 Euro
150 Euro
150 Euro
115 Euro
100 Euro
1 double bed
4 single beds
Minimum stay: 1 week
For bedding, towels and final cleaning we charge 50,- Euro
House Deborah – Bookingtable 2022


01
02
03
04
05
06
07
08
09
10
11
12
13
14
15
16
17
18
19
20
21
22
23
24
25
26
27
28
29
30
31
Jan
Feb
Mar
Apr
May
June
July
Aug
Sep
Oct
Nov
Dec
01
02
03
04
04
06
07
08
09
10
11
12
13
14
15
16
17
18
19
20
21
22
23
24
25
26
27
28
29
30
31
free
occupied
out of season
*** This house has WiFi. ***
Can't find the right date or your ideal accommodation?
I can advise on other alternatives - hotels, modern houses, villas and other old houses.
Please don't hesitate to Contact Olyvia for more information.
No TBA / Licenced by the Greek National Tourist Organisation