Two houses in one!
Tucked away in the heart of the Old Village, 'Dio Delphia' was originally two houses which have been linked into one spacious, welcoming home that can easily accommodate four adults and two children.
One of the two exterior door leads from the terrace into the kitchen/diner, which is equipped with a small electric cooker (plus two extra hot plates), a fridge, washing machine and all the utensils you will need to produce a meal – and a table at which to eat it! Next to the kitchen is the beautifully updated, tiled shower room, with a shower enclosure, toilet and basin.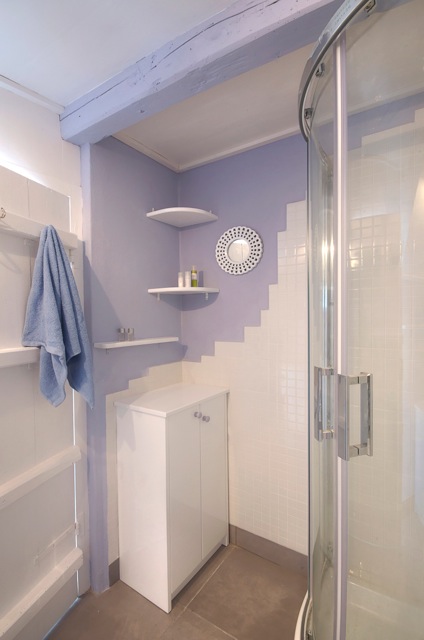 From the kitchen you can go through into what was 'next door', where, on the ground floor there is the lounge. In here there is a large, traditional corner fireplace, and two full size wooden sofa beds (with mattresses) provide extra sitting and sleeping space. The second exterior door leads onto the front, sea-facing terrace.
Because the house used to be two, there are a couple of separate staircases leading up to the bedrooms. Bedroom one is approached from the kitchen, where the stairs take you up to a spacious double room with views across the sea to the islands of the 'Two Brothers'. Bedroom Two is a good-sized twin room, accessed via the second staircase which leads from the lounge; and this room shares the same view through its two windows.
Holidays on Greek islands invariably involve a lot of outside living and 'Dio Delphia' is the perfect place for this. On the doorstep the large plakka terrace has a seating area with a table big enough to sit ten or twelve people around it. From here, steps lead down to the second terrace, which is ideal for sunbathing, reading … or just enjoying the sea view and soaking up atmosphere of your very Greek surroundings.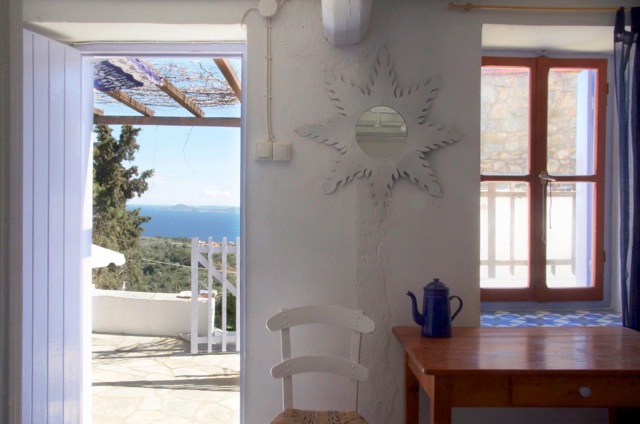 Dio Delphia is an old, traditional house which has been tastefully modernised while retaining many of its original features and without losing any of its character. It is the perfect accommodation for families or groups of friends who want the experience of staying in an authentic Greek home while benefitting from most of the trappings of modern day living.
Dio Delphia – Graduation of prices per day due to season


May
June
July
August
September
October
Number of beds

85 Euro
100 Euro
120 Euro
120 Euro
100 Euro
85 Euro
1 double bed
2 single beds
2 day beds in living room
Minimum stay: 1 week
For bedding, towels and final cleaning we charge 50,- Euro
Dio Delphia – Bookingtable 2022


01
02
03
04
05
06
07
08
09
10
11
12
13
14
15
16
17
18
19
20
21
22
23
24
25
26
27
28
29
30
31
Jan
Feb
Mar
Apr
May
June
July
Aug
Sep
Oct
Nov
Dec
01
02
03
04
04
06
07
08
09
10
11
12
13
14
15
16
17
18
19
20
21
22
23
24
25
26
27
28
29
30
31
free
occupied
out of season
This house does not have wifi. You can easily connect, however (in the company of a good coffee or a small Ouzo perhaps) in all the taverns and bars in the village as well as on all the beaches.
Can't find the right date or your ideal accommodation?
I can advise on other alternatives - hotels, modern houses, villas and other old houses.
Please don't hesitate to Contact Olyvia for more information.
No 0756K92000439301 / Licenced by the Greek National Tourist Organisation
Enregistrer
Enregistrer
Enregistrer
Enregistrer
Enregistrer
Enregistrer
Enregistrer
Enregistrer
Enregistrer
Enregistrer
Enregistrer
Enregistrer
Enregistrer
Enregistrer
Enregistrer
Enregistrer
Enregistrer
Enregistrer