The blue-painted Dorothea is at the end of the Old Village, standing on a cliff edge and with a commanding and stunning view over neighbouring Skopelos (of Mama Mia fame). It is reached via a small footpath which runs between the houses and past the island's Old School (which is no longer in use) – a wheeled suitcase is a very good idea, as it's about a five minute walk from the nearest parking spot!
Dorothea is a house which is full of character, and feels very 'Greek'. with whitewashed stone walls, fitted wood furniture and beamed ceilings. But don't worry – it has 21st century conveniences such as a washing machine and dishwasher in the large kitchen/diner and a modern, tiled shower room.
Dorothea's accommodation consists of one big double bedroom with fitted corner cupboards and French doors leading on to balcony (with sea view); a built in double bed, with a traditional cotton mattress 'under the stairs' in the living room; and another small built-in bed downstairs. There is a large kitchen/diner, beautifully fitted with wooden cupboards. Outside there is a patio area, where you can sit around the table, shaded by a large parasol and enjoy the magnificent and uninterrupted views across the hillside to Skopelos; and there's also an outdoor shower, so you can freshen up while you're doing it!
If you can bear to tear yourself away from this lovely house and its stunning views, you can just take a short stroll into the heart of the Old Village (this does involve several sets of steps) and immerse yourself in whatever happens to be going on at the time!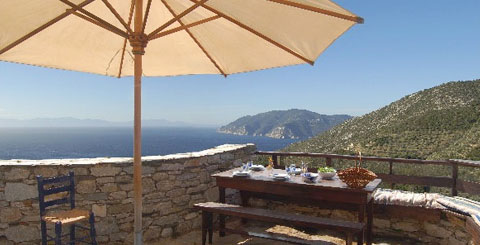 House Dorothea – Graduation of prices per day due to season

May
June
July
August
September
October
Number of beds
80,00 Euro
95,00 Euro
110,00 Euro
110,00 Euro
95,00 Euro
80,00 Euro
1 double bed
1 bed for two 135 x 200cm in the alcove
1 bed 120 x 170cm in the alcove
Minimum stay: 1 week
For bedding, towels and final cleaning we charge 50,- Euro
House Dorothea – Bookingtable 2021


01
02
03
04
05
06
07
08
09
10
11
12
13
14
15
16
17
18
19
20
21
22
23
24
25
26
27
28
29
30
31
Jan
Feb
Mar
Apr
May
June
July
Aug
Sep
Oct
Nov
Dec
01
02
03
04
05
06
07
08
09
10
11
12
13
14
15
16
17
18
19
20
21
22
23
24
25
26
27
28
29
30
31
free
occupied
out of season
This house does not have wifi. You can easily connect, however (in the company of a good coffee or a small Ouzo perhaps) in all the taverns and bars in the village as well as on all the beaches.
Can't find the right date or your ideal accommodation?
I can advise on other alternatives - hotels, modern houses, villas and other old houses.
Please don't hesitate to Contact Olyvia for more information.
No 0756K1000400301 / Licenced by the Greek National Tourist Organisation
Enregistrer
Enregistrer
Enregistrer
Enregistrer