Pretty "Mavroula" sits just at the corner of a very peaceful street. It is made even more lovely by its blue and white facade and a flight of rounded steps which leads to its elegant doorstep. The newly revamped interior of this old house - once the village grocery store- offers all the comfort you can expect thanks to its large exposed chestnut beams, wood panelling and polished wooden flooring.
The ground floor accommodates two large and well-lit bedrooms. In the larger of the two, with a double bed and a French window, shades of blue and light green work to create a calm atmosphere. With its charming traditional fireplace and its trundle beds, the second room can accommodate two adults or up to four children.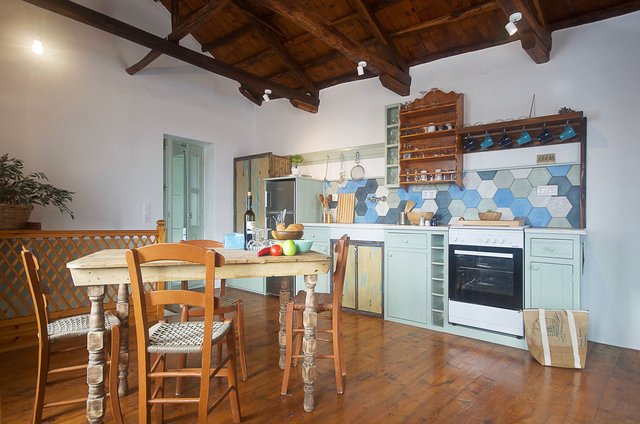 In the entrance hall, an old staircase leads to the first floor where you will find the vast living space. Its elegantly designed functional cooking area including a worktop, a large fridge, hotplates, an oven, etc – adds a discreet touch of cheerfulness to the genuine charm of this "authentic" old house.
By the sitting-room, a French window opens onto a patio overlooking the small Island of Dio Adelfia. It is the ideal place to sit and enjoy an apéritif or dinner. On the left hand side of the patio, you will find a toilet "with a view".
Back in the living room and behind the dining area, you can access a small utility room with a washing machine, a boiler and a pleasant shower in a small bathroom.
The house is located in a quiet setting, and yet it is only two minutes away from all the shops and tavernas.
Cool and relaxing during the hottest season, Mavroula is also the perfect place to stay as early as Spring or as late as Autumn, with its wood-burning stove, its large well-lit rooms and, of course, the cosiness of an old home.
House Mavroula – Graduation of prices per day due to season


May
June
July
August
September
October
Number of beds

78,00 Euro
95,00 Euro
105,00 Euro
105,00 Euro
95,00 Euro
78,00 Euro

1 double bed
2 single beds

2 pull-out beds

Minimum stay: 1 week
For bedding, towels and final cleaning we charge 60,- Euro
House Mavroula – Bookingtable 2023

01
02
03
04
05
06
07
08
09
10
11
12
13
14
15
16
17
18
19
20
21
22
23
24
25
26
27
28
29
30
31
Jan
Feb
Mar
Apr
May
June
July
Aug
Sep
Oct
Nov
Dec
01
02
03
04
04
06
07
08
09
10
11
12
13
14
15
16
17
18
19
20
21
22
23
24
25
26
27
28
29
30
31
free
occupied
out of season
This house does not have wifi. You can easily connect, however (in the company of a good coffee or a small Ouzo perhaps) in all the taverns and bars in the village as well as on all the beaches.
Can't find the right date or your ideal accommodation?
I can advise on other alternatives - hotels, modern houses, villas and other old houses.
Please don't hesitate to Contact Olyvia for more information.
No \1 / Licenced by the Greek National Tourist Organisation