Sassa House is located on a large plot of land above the port of Patitiri. When I first came here with my sister and my parents in 1963, we two children were put on the back of a donkey and it went up through a winding path to the house, as roads and cars did not exist then. Today, you can easily go by car in just a few minutes from the port to the front gate, yet you are still on your own in a quiet place hidden among pine trees - in a small paradise. Perfect for families with children and for those who want to slow down with the gentle murmur of the pines.
The path from the gate leads through the garden down to the house. From the front terrace with a cozy seating area you enter the living room with a sitting area and a small dining table by the window. With your first coffee you can look over the sea and the neighboring island of Peristera or you can have breakfast on the little balcony which you enter through the large door from the living room. Crickets, birdsong and gentle sunrays are then your companions at the start of the day.
Leaving the living room you enter both the bright bedroom with a double bed and the small island-styled kitchen. A passageway leads from there to the bathroom, equipped with shower, modern sink, toilet and a washing machine.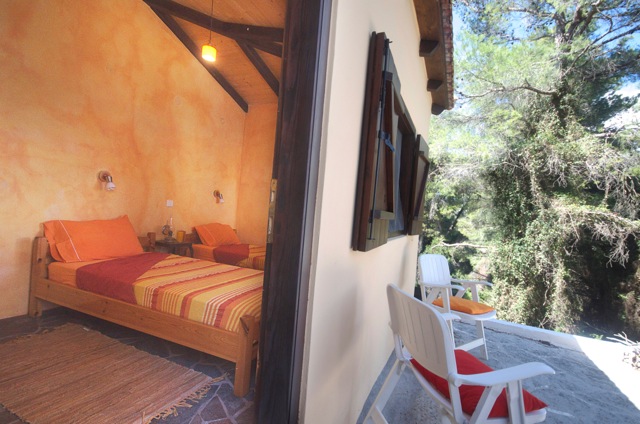 From the kitchen you can also access the rear patio and from there, the small studio. Children will love the small 'house of their own' equipped with two single beds and a private bathroom.
In the garden under the pinetrees, loungers are available for a relaxing siesta in the shade.
House Sassa – Graduation of prices per day due to season


May
June
July
August
September
October
Number of beds

76 Euro
89 Euro
100 Euro
100 Euro
89 Euro
76 Euro
1 double bed
2 single beds
Minimum stay: 1 week
For bedding, towels and final cleaning we charge 50,- Euro
House Sassa – Bookingtable 2021


01
02
03
04
05
06
07
08
09
10
11
12
13
14
15
16
17
18
19
20
21
22
23
24
25
26
27
28
29
30
31
Jan
Feb
Mar
Apr
May
June
July
Aug
Sep
Oct
Nov
Dec
01
02
03
04
04
06
07
08
09
10
11
12
13
14
15
16
17
18
19
20
21
22
23
24
25
26
27
28
29
30
31
free
occupied
out of season
This house does not have wifi. You can easily connect, however (in the company of a good coffee or a small Ouzo perhaps) in all the taverns and bars in the village as well as on all the beaches.
Can't find the right date or your ideal accommodation?
I can advise on other alternatives - hotels, modern houses, villas and other old houses.
Please don't hesitate to Contact Olyvia for more information.
No 0756K91000453501 / Licenced by the Greek National Tourist Organisation
Enregistrer
Enregistrer
Enregistrer
Enregistrer
Enregistrer
Enregistrer
Enregistrer
Enregistrer
Enregistrer
Enregistrer