Located in a peaceful part of the Old Village, Nikki is a simple, but stylish studio that looks out over roof tops towards a beautiful sea view.
The studio is laid out over two floors. Downstairs, the original exposed stone gives a cool, calm feel to the bedroom. The room is furnished simply with an antique brass double bed and the original bread oven remains as a feature of this traditional, Sporades home.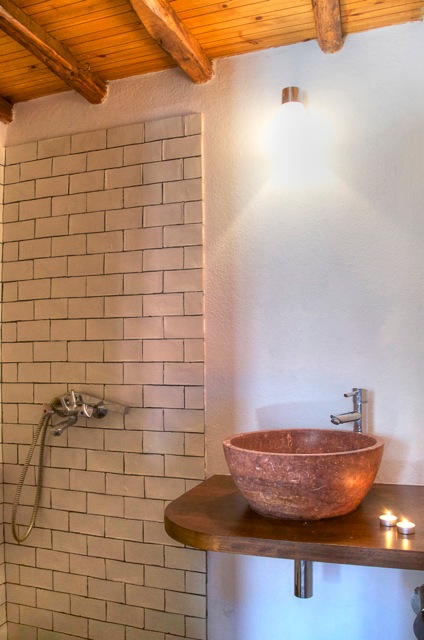 Leading off the bedroom is a contemporary wet room designed with black terracotta tiles to feel warm under foot in the cooler months and cool in the heat of Summer. The wet room has a good, strong shower to freshen you after a day at the beach.
Upstairs is an airy, spacious living-diner. The freestanding kitchen has a fridge and a small cooker. It comes well equipped to cook a light lunch and breakfast. The room also has a large couch, perfect for lazing on when the sun gets too hot, as well as the original day bed.
The room has double doors which open out onto a balcony. The perfect place to sit and watch the boats go by, as you look out to the Aegean. In the evening it isn't unheard of for this part of the village to be so quiet, you feel like you have the island to yourself. Yet, the property is just a 10 minute stroll to the livelier part of the Old Village, where the bars, restaurants and bakery are.
If you are looking for a traditional Greek studio, the picture in your mind is most likely the same as Studio Nikki. The perfect setting for a romantic escape.
Sorry, but we cannot accommodate children under 18 at this property. However, Sandy Cottage next door sleeps a couple and a child. The two properties combined could offer the ideal solution for a larger group of friends or family wishing to holiday together. If you would like to book the two together, please contact Alonissos Homes to confirm that both properties are available for your chosen dates.
Studio Nikki – Graduation of prices per day due to season


May
June
July
August
September
October
Number of beds

65 Euro
70 Euro
78 Euro
78 Euro
70 Euro
65 Euro
1 double bed
Minimum stay: 1 week
For bedding, towels and final cleaning we charge 50,- Euro
Studio Nikki – Bookingtable 2023


01
02
03
04
05
06
07
08
09
10
11
12
13
14
15
16
17
18
19
20
21
22
23
24
25
26
27
28
29
30
31
Jan
Feb
Mar
Apr
May
June
July
Aug
Sep
Oct
Nov
Dec
01
02
03
04
04
06
07
08
09
10
11
12
13
14
15
16
17
18
19
20
21
22
23
24
25
26
27
28
29
30
31
free
occupied
out of season
This house does not have wifi. You can easily connect, however (in the company of a good coffee or a small Ouzo perhaps) in all the taverns and bars in the village as well as on all the beaches.
Can't find the right date or your ideal accommodation?
I can advise on other alternatives - hotels, modern houses, villas and other old houses.
Please don't hesitate to Contact Olyvia for more information.
No \1 / Licenced by the Greek National Tourist Organisation
Enregistrer
Enregistrer
Enregistrer
Enregistrer
Enregistrer
Enregistrer
Enregistrer
Enregistrer
Enregistrer
Enregistrer
Enregistrer
Enregistrer
Enregistrer
Enregistrer
Enregistrer
Enregistrer