Renovated to a high standard in 2013, and repainted annually to maintain its dazzling whiteness, Anna is situated in a very quiet spot in Chora; but it is close to a public car parking spot and a short walk from the shops, tavernas and bars up in the main part of the Village.
The house is entered via an attractive , small, vine-covered courtyard where a dining table is available for al-fresco eating. The main door takes you straight into the bright kitchen which is equipped with a gas cooker, a fridge and smaller appliances including a toaster and kettle. The half-tiled walls are lined with fitted cupboards and shelves, providing plenty of storage space.
From the kitchen a door leads into the attractive shower room which has a marble basin, a toilet and a shower area. A washing machine is discreetly hidden in a cupboard! The water is heated electrically by a boiler which is housed in the kitchen.
At the opposite end of the kitchen you will find the entrance to the lower living room. A double (140cm) bed is tucked under the stairs, and there is a dining table and chairs, and a couple of armchairs in which you could sit by the woodburning stove on one of the chillier early or late season evenings. The stove is set into a large, traditional corner fireplace, one of the many original features which has been maintained in the house.
A wooden staircase leads up to a second large room. Another double bed is placed up here, along with ample fitted cupboards, a desk/table and a sofa. The room has a beautiful wooden floor, and two balconies leading from it – one small, and one large covered alternative with a dining table and a sitting area. The views from the latter are spectacular, taking in the rooftops of the lower Old Village, the olive groves on the hillside and looking over across the sea to the 'Two Brothers' islands, the stunning backdrop of Evvia and, on a clear day, as far as Skyros.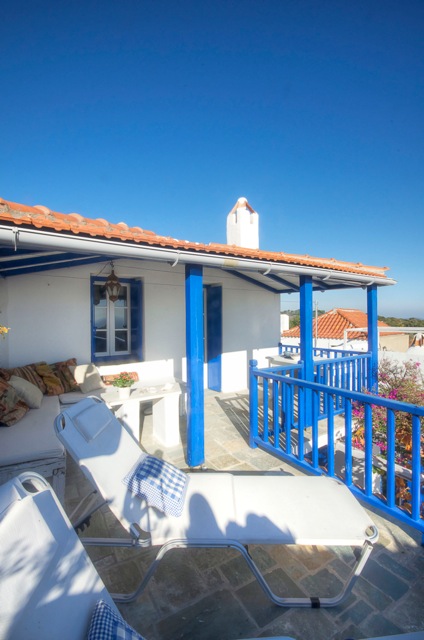 'Anna' is ideal for two couples, offering space and privacy for each if required. However, should you wish to travel in a larger party, this beautiful house is adjacent to both 'Maya' and 'Meli', both of which can be found on the Alonissos Homes website – so if you would be interested in renting a combination of houses check their availability and contact Olyvia.
House Anna – Graduation of prices per day due to season


May
June
July
August
September
October
Number of beds

80 Euro
90 Euro
100 Euro
100 Euro
90 Euro
80 Euro
2 double beds
Minimum stay: 1 week
For bedding, towels and final cleaning we charge 50,- Euro
House Anna – Bookingtable 2022


01
02
03
04
05
06
07
08
09
10
11
12
13
14
15
16
17
18
19
20
21
22
23
24
25
26
27
28
29
30
31
Jan
Feb
Mar
Apr
May
June
July
Aug
Sep
Oct
Nov
Dec
01
02
03
04
04
06
07
08
09
10
11
12
13
14
15
16
17
18
19
20
21
22
23
24
25
26
27
28
29
30
31
free
occupied
out of season
This house does not have wifi. You can easily connect, however (in the company of a good coffee or a small Ouzo perhaps) in all the taverns and bars in the village as well as on all the beaches.
Can't find the right date or your ideal accommodation?
I can advise on other alternatives - hotels, modern houses, villas and other old houses.
Please don't hesitate to Contact Olyvia for more information.
No 0756K1000400301 / Licenced by the Greek National Tourist Organisation
Enregistrer
Enregistrer
Enregistrer
Enregistrer
Enregistrer
Enregistrer
Enregistrer
Enregistrer
Enregistrer
Enregistrer
Enregistrer
Enregistrer
Enregistrer
Enregistrer
Enregistrer
Enregistrer