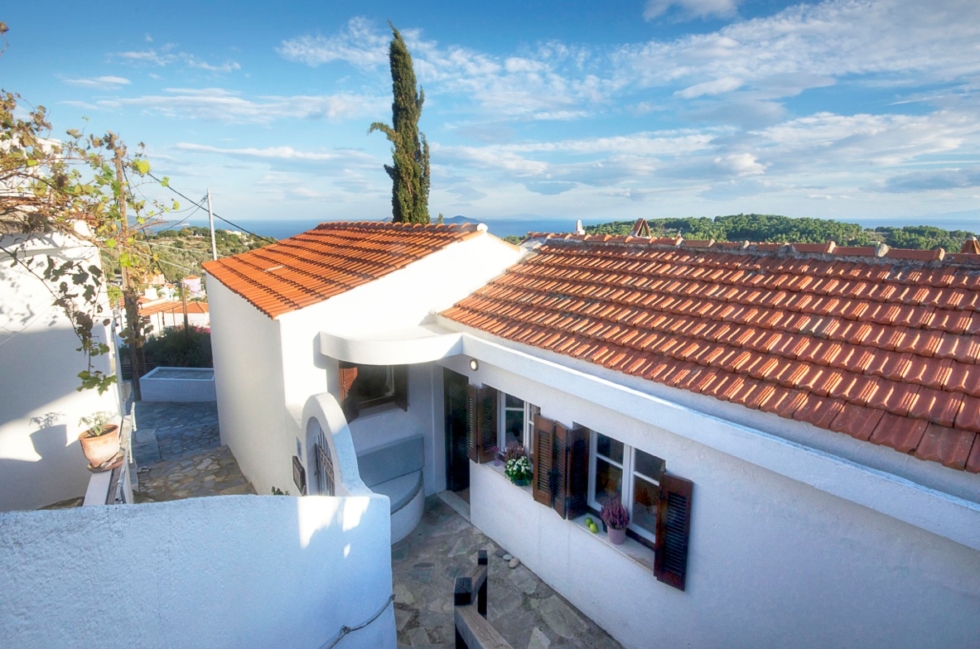 "Maya" has the unusual characteristic (although not so much for Alonissos) of being built around rock, a large lump of which remains in the bedroom and much of which is an attractive feature in the courtyard. The house itself is best suited to four occupants, although there is a fifth single bed available in the living room.
"Maya" has an attractively fitted out kitchen/dining area with a lovely cool tiled floor and two small tables to eat at; and a balcony, which looks over to Dio Delphia, leads from this. A bedroom, with a double built-in bed, is found off the kitchen; and a white and wood contemporary shower room leads off the dining area. The main bedroom is downstairs, and has the 'natural' feature of a rocky outcrop in one corner. A tiled floor ensures that the room keeps as cool as possible during the summer heat.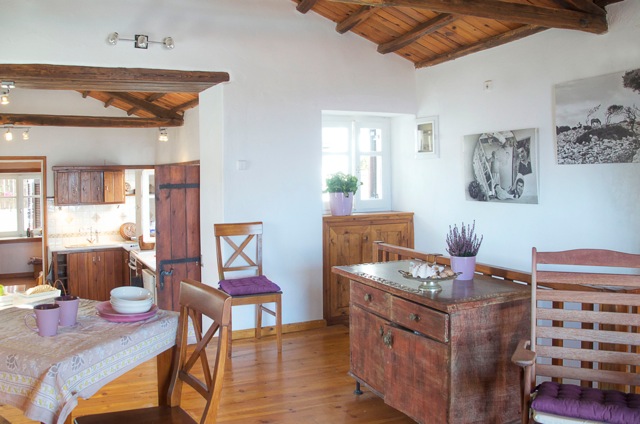 "Maya" has a large, attractive living area, furnished with chunky wooden furniture and woven rugs, which leads out onto the terrace – ideal for sitting out and admiring the view. Which you are likely to want to do, time and time again!
House Maya – Graduation of prices per day due to season


May
June
July
August
September
October
Number of beds

80,00 Euro
92,00 Euro
105,00 Euro
105,00 Euro
92,00 Euro
80,00 Euro
1 double bed
2 single beds
Minimum stay: 1 week
For bedding, towels and final cleaning we charge 50,- Euro
House Maya – Bookingtable 2023 ( NOT YET AVAILABLE )



01
02
03
04
05
06
07
08
09
10
11
12
13
14
15
16
17
18
19
20
21
22
23
24
25
26
27
28
29
30
31
Jan
Feb
Mar
Apr
May
June
July
Aug
Sep
Oct
Nov
Dec
01
02
03
04
05
06
07
08
09
10
11
12
13
14
15
16
17
18
19
20
21
22
23
24
25
26
27
28
29
30
31
free
occupied
out of season
This house does not have wifi. You can easily connect, however (in the company of a good coffee or a small Ouzo perhaps) in all the taverns and bars in the village as well as on all the beaches.
Can't find the right date or your ideal accommodation?
I can advise on other alternatives - hotels, modern houses, villas and other old houses.
Please don't hesitate to Contact Olyvia for more information.
No \1 / Licenced by the Greek National Tourist Organisation